Rendezvous with Ginger-it-Up
Meet the Creator/Producer/Host of Queen City Fame TV Productions- Laura Starling
Dream. Dream. Dream!! Make long-term goals for herself and reach out to them. This is what makes this diva successful at a very young age. Laura Starling, graduated with honors in Bachelor of Science in Public Affairs and a Master of Public Affairs.  She is an entrepreneur who runs her own talent management company. She is the President at Bridge Talent Group, LLC, which is a model, talent, event management and consulting firm based in Charlotte, North Carolina. Not just this, this young lady has recently made her debut in the television as a Host of a TV show. She is the Creator, Producer & Host of the TV show produced by her own production company 'Queen City Fame Productions'. The 'Queen City Fame TV show' gained so much popularity and has been telecasted on 'The ON Channel' recently. After successfully completing the Season-1 of this show, Laura looks forward to creating Season-2 with even more depth & great ideas. Another recent achievement for Laura is that she will be a contributing writer for Charlotte Lifestyle Magazine. The count of her talents doesn't stop here. This multi-talented girl is also a model who did promotional brand marketing as a part-time job to earn some flexible income.
Having envisions of performing on stage started out as a dream for this diva at early childhood. Dancing & singing were her two talents as she was growing. As a kid, she used to have talent competitions among herself and her cousins to see who would have the best performance and she always won. Determined to follow her dream of performing in front of a large crowd, she even travelled to Nice, France to perform Belle in the carnival. She is born with a creative mind and with her passion and determination, turning her big dreams into reality.
I have been fortunate to meet this young and very talented girl and knowing Laura in person is an absolute honor. The first meeting didn't satisfy my urge to know about this very talented girl in the town. So, I sent an invite to Laura for "Rendezvous with Ginger-it-Up" and she graciously took time out to tell us about her career and give advice for the young readers who wants to be in television. So, a very warm welcome to Laura Starling on my 'Rendezvous with Ginger-it-Up'!
Mani: Who is Laura Starling? Please tell us about yourself, your childhood and education?
Laura: Laura is a small town girl with big dreams of being a dancer and a singer. Growing up, my cousins and I would have a talent competition to see who would have the best performance. I would always win because I had two talents, which they would say was not fair. Lol. I have one sister, two step-brothers and two step-sisters; one who passed away from cancer a few years back. I graduated from John Tyler High School. I was an Apache Belle at Tyler Junior College after high school and traveled to Nice, France to perform in the Carnival. I moved to Dallas directly after graduating from Tyler Junior College, was a manager for Macy's Department Store for 15 years. Left Macy's after 15 years to complete my undergrad and graduate degree. I graduated with honors with Bachelor of Science in Public Affairs and a Master of Public Affairs.
Mani: Tell us about the Bridge Talent Group and your very own 'Queen City Fame TV Production'?
Laura: Bridge Talent Group, LLC is a model, talent, event management and consulting firm based in Charlotte, North Carolina. Specializing in promotions, lifestyle/commercial branding, social media marketing, campaign idealization and event staffing.
Queen City Fame TV Show; now airing on The On Channel shines a spotlight on the creative, talented, emerging, inspiring and successful in and around the Queen City.
Mani: How did the inception of your business take place?
Laura: The inception of my business started when I was in the university. I had just left my retail management position to complete my degree and needed a part-time job that was flexible, that I could work around my school schedule. Promotional brand marketing was my ticket to flexible income. I was able to promote brands, meet people, have fun and make some extra income all at the same time. Promotional brand marketing provided me an opportunity to learn how to present detail information quickly and precisely with confidence. Once I completed my undergrad and graduate degree; I traveled throughout China and India to explore, grow and center myself. Upon my return from my travels; I had begun to reflect on my experiences working in promotional brand marketing and how it helped meet some of my financial needs but also allowed me the flexibility I needed to complete my degree. Although I did not start the Bridge Talent Group right away, it stayed on my mind. Then one fine day, I decided to start the Bridge Talent Group. I just did it. I did not think twice about it. I had done my research and knew there was a need and my journey began.
Queen City Fame was much like the Bridge Talent Group. For many years, I always had the opportunity to meet some amazing people doing some pretty incredible things and I never knew why. I would always say to myself, I don't know why I have met all of these awesome people but one day I will find out. I would keep a mental note of each person I have met through my travels and once I arrived in Charlotte, I began to network. I always have had a knack for mixing and mingling and getting to the core of a person to find out what is really there. I guess it is my inquisitive nature or just wanting to find out my purpose in life and how we are connected.  We are all connected in some way and I just don't believe you meet people by chance. I always had the ability to network and no matter where I am, I never meet a stranger.
I began compiling a list of people that I believe to be interesting and started connecting the dots to create and produce a new series called Queen City Fame which is featured on the ON Channel. Queen City Fame allowed me to feature some of the talents that makes the Queen City Special.  There is a message in everyone's journey.
Mani: What were the challenges you faced while setting up your business?
Laura: The challenges I faced setting up the Bridge Talent Group was marketing my business and gaining clientele. Websites did not bring business. Passing out business cards did not bring business. Networking and selling your brand brought business. I learned that the best way to grow my business was to maintain visibility as a business owner as well as a brand.
The challenges I faced starting Queen City Fame was more organizational. I would say, that I knew exactly what I wanted to do but having the time to do it was a struggle. Not only am I the creator of the show, but I am also the producer, editor and the host. I could not put it all together without my awesome cinematographer; Jay. He brings my visions to life. I write it and he delivers it. We call the first season; amateur season, which means we both have taken mental notes and written notes of how we will go through the process of creating Queen City Fame for next season.
Mani: What are your future plans with regards to your TV production?
Laura: I am looking forward to Season 2 of Queen City Fame on The On Channel with more viewers and followers. It is important to me to be able to provide a platform for all of the talented people in and around the Queen City.
Mani: Laura, you recently grabbed the opportunity to write for The Charlotte Lifestyle Magazine as a contributing writer. So, what feature of Queen City Fame show do you plan to highlight in the magazine? During which month's edition would we able to read your write-ups?
Laura: I will be a contributing writer for Charlotte Lifestyle Magazine and will give a behind the scenes view of my interview with guests that I have featured on Queen City Fame in my section of Lifestyle Magazine; "Queen City Spotlight" The first issue will be available this February in print as well as online. You can follow Charlotte Lifestyle Magazine on Face Book @charlottelifestylemagazine and Instagram @cltlifestyle
Mani: What are those personal qualities that make you a perfect Entrepreneur?
Laura: I am a self-starter, disciplined, confident, competitive, creative, determined, and passionate.
Mani: What is that one thing you are most passionate about?
Laura: I am most passionate about being a positive role model.
Mani: What are your views on Women Empowerment? Why is it necessary for each of the female to uplift each other?
Laura: Women empowerment is very important to improve the quality of life for women across all sectors which is essential in building stronger economies. It is necessary for women to uplift each other and help other women to become stronger, more confident and in control of their lives. It is important for women to build a bond of trust and support. When you uplift each other you in return uplift yourself.
Mani: What do you think are the keys to professional and business success for women across the globe?
Laura: The keys to professional and business success for women is connecting and creating friendships.
Mani: What has been your greatest professional success and biggest setback?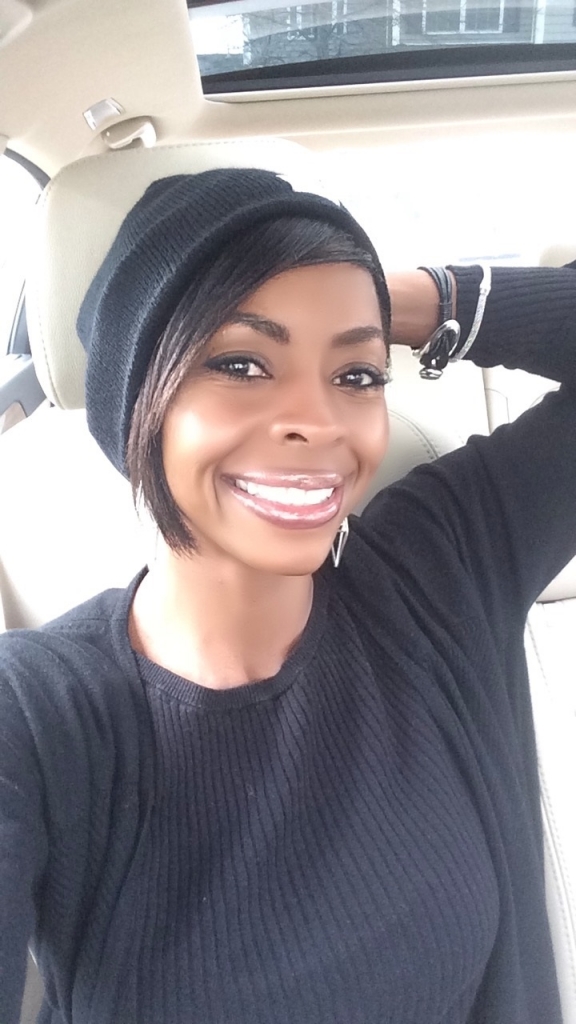 Laura: My greatest professional success is creating Queen City Fame, a show that features talented and inspiring people at different stages of success that are able to connect to all audiences.
Mani: Tell us a bit about your family and its role and contribution towards your successful business?
Laura: My mom taught me that you have to have a spiritual foundation to keep you centered, focused and grounded. My dad taught me that you should never be afraid to fail, that behind every fail is a learning opportunity. Hard work and determination will prevail.
Mani: Describe yourself in one sentence?
Laura: Driven
Mani: Do you have a favorite mantra/quote that keeps you inspired?
Laura: Be the change you want to see in the world.
Mani: What is your personal fashion statement?
Laura: My smile is my personal fashion statement
Mani: What are your favorite three dishes/recipes?
Laura: Salmon in lemon, garlic, wine sauce with asparagus.
Smoked Bourbon Chicken with sauté spinach.
Creamy sour butter sauce pasta with sautéed mushrooms with a sweet potato.
Mani: What advice would you give to young women readers of Ginger-it-Up who want to follow a similar career path as you?
Laura: I would tell younger women readers to write out your plan, work your plan, adjust your plan and never be afraid to fail, because with each fail is an opportunity to learn and an opportunity to win.
Closing Remarks:
Mani: Is there anything else you can tell us about yourself, your career, or the profession that would be interesting or helpful to others aspiring to enter and succeed in the similar business?
Laura: My motto that I live by each day. "It doesn't matter where or when you start. It only matters where you want to go".
Mani: Thank you so much for your valuable time Laura. It was so wonderful to have you on my Rendezvous Series and know your journey. I am sure my readers are going to get inspired after knowing you and your achievements. I wish you good luck and lot of success with all your future endeavors.