5 essential winter foods for glowing skin and healthy hair
Winter is a wonderful time of year. We get to wrap up warm with thick jumpers, snuggle up under cozy blankets and munch our way through delicious comfort food. If you've discovered the downside of winter because you've found yourself cleaning dry skin or dealing with damaged hair – don't panic. Adding these five foods to your diet this winter is a great way to encourage glowing skin and healthy hair in no time.
Winter skin and hair care: 5 foods you need to eat
There are so many different foods you should include in your diet to encourage healthy hair and skin, but we'd be here all day if we explored them. Here are our top 5 foods you should be including in your diet to aid with your skin and hair care this winter.
Nuts
Nuts are full of essential minerals and vitamins that will help to keep your hair and skin looking their best all winter long. The top three nuts we recommend you include are:
Pine nuts – these nuts are full of vitamins including K, E, B6, riboflavin, and more as well as minerals such as iron and potassium amongst others. Pine nuts make delicious additions to filo pastry snacks and meals such as Paneer gnudi with saag.
Almonds – full to the brim with essential fatty acids, protein, fiber, and vitamin E these nuts are great for your skin. Why not try out our Indian NanKhatai Biscuits to include a bit of nostalgia with this nutty addition to your diet?
Walnuts – as well as the inflammatory properties these tasty nuts offer, they also contain vitamin B and omega-3 fatty acids to boot. They're the perfect supplement to most curries or can be used to whip up a mouth-watering batch of walnut and honey baklava or walnut burfi – which can be wrapped up as a great homemade gift in the holiday season too.
Oily fish
Warming winter dishes made with fish like sardines, mackerel, and salmon are the perfect way to care for your hair this winter through your diet. They are full of those all-important omega-3 fatty acids and taste fabulous too. Why not try a winter salmon dish with garam masala & curry leaves or a lightly spiced sardine and aloo brain?
Coconut
Coconuts are a natural saturated fat, and whilst you may know that coconut oil is great for cleaning dry skin and soothing damaged hair when used externally, did you know it's a great addition to your diet too? Coconuts contain an array of nutrients from vitamins C and B1 to manganese, iron, and more. They're super versatile too. A coconut curry pumpkin soup is a delicious, warming winter's recipe (plus pumpkin is a great source of folate which can help stimulate hair growth!) you could try; or if you fancy a winter's morning snack, bake up a batch of coconut laddoos.
Leafy green vegetables
From kale to spinach to chard – there are so many wonderful leafy green vegetables to choose from. The most important thing to know about these veggies is that they are full of vitamin E – a vitamin well known to help with dry skin and hair and thus an ideal supplement to your winter diet. They can be used in pretty much every winter meal you put together too. From spinach dahl to vegan saag aloo with chard and even kale onion bhajis it is so easy to bring these healthy leafy greens to your winter table.
Pulses
You've been told since you were a child that lentils, beans, and chickpeas are good for you – but do you know why? They're protein-rich, and that protein gives you the amino acids you need, that act as the building blocks to healthy skin and hair. You probably don't need us to tell you what to use these pulses for – but if you want to mix things up why not try a lentil and cauliflower winter soup, a spiced chickpea flatbread, or a simple chana masala?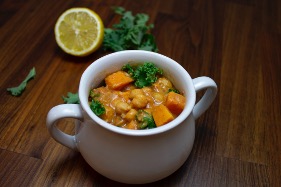 Image Source: Unsplash
So, there you go. How easy is that? With these five simple additions to your winter diet, you can spend less time cleaning dry skin and damaged hair, and more time enjoying all that the beautiful winter months have to offer.