Quick Potluck Appetizer: Tortilla pinwheels (Spinach and cheese-Pesto Mini Bites)
Making quick and easy recipes to please my guests and kids at home has always been on my mind. I keep trying various time-saving and enticing recipes in my kitchen. These Mexican Tortilla pinwheels is one of those favorite low-stress party appetizer recipes which can be made ahead of time and served chilled when the guests arrive.
These bite-sized roll-ups have been packed with the crunch of Spinach, creaminess of Cream cheese and Ranch dressing and the tanginess and strong flavor of Roma tomatoes-Mint Pesto.
So, if you want to indulge your guests with a make ahead classic recipe, and save plenty of time to enjoy with your friends, this is the ONE you can rely on. You don't need any special ingredient or preparation. This recipe is quick, easy to put together and saves you a lot of time. The best part is that you can make various versions of this with the kind of ingredients available in your kitchen.
I had some Roma tomatoes and mint. So, I quickly prepared a Roma Tomatoes and mint pesto along with peanuts & garlic. If you don't have time to make this pesto, you can even replace it with a salsa of your choice.
I also had a lot of spinach at home. And munchkin makes kind of weird faces when it comes to leafy greens. So, I thought it was a great idea to hide it in the cheesy-creamy-tangy roll-up and give a great green hue to the mini-bite so that she is compelled to eat it without throwing any tantrums.
As I said, this recipe can be customized as per time and availability of the ingredients in your kitchen. So, don't hesitate to try your own fillings. If your kids love bell peppers, you can even mix some finely chopped bell-peppers in the cream cheese-ranch spread. Kids love Mangoes and summers is the time to enjoy the best mangoes. So, finely chopped mangoes are another option to please your guests and li'l kidoos at home. So, take your own pick and enjoy the mini-bite roll-ups during anytime of the year.
My effort didn't go waste and she loved the mini-bites surprise after a long day she spent at school. And guess what, she got a surprise for me too. It was an early Mother's day Cake treat from my girls. Their school sponsored these cute cakes from the PTA funds.I loved the decoration my 6 years old has done. I can already see a baking enthusiast growing up in my house.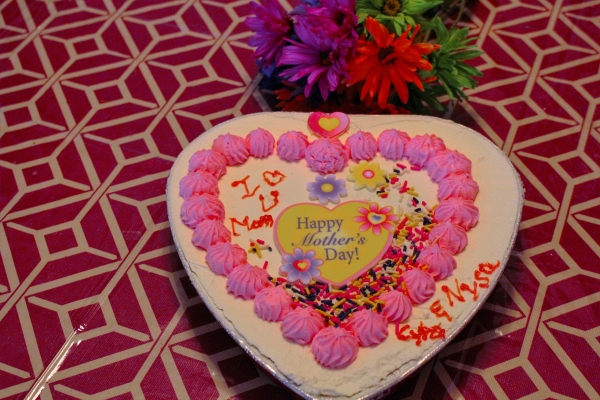 Overall, the day was a fun-filled Treat Day for us! Enjoyed the mini-pinwheels and cake treat to the heart and soul …
Ingredients:
Makes 20 pinwheels from 5 Tortillas
For Tortilla Pinwheels
A pack of burrito sized Tortilla (I used 5 Tortillas)
2 cups Pre-washed Baby spinach Chopped(or can be used without chopping also)
1 cup cream cheese softened
½ cup ranch dressing
Salt and Pepper as per taste

For Pesto:
1 Cup Roma Tomatoes (put a little cross cut on top of tomatoes)
¼ cup Fresh Mint leaves
¼ cup fresh coriander or parsley
2 dried whole red chillies
1 tbsp roasted peanuts
4 cloves of garlic
Salt & sugar as per taste
One bowl of ice cubes
Methods:
1. To make the pesto, bring water to a boil in a saucepan. Once the water is boiling, put the tomatoes in water for 3-4 mins. Once the tomatoes are tender and the peel starts to come out, take the tomatoes out of the water and give an ice bath to stop cooking. Remove the peel. Now put the tomatoes in the blender along with other ingredients to make pesto.
2. In a stand mixer, take the Softened cream cheese, ranch dressing, little salt and pepper. Mix everything nicely at a medium speed to make a spread.
3. Lay out tortillas one by one on a flat surface or a cutting board. Spread the Cream cheese mix evenly on one side of each tortilla to cover the whole surface.
4. Add a layer of chopped spinach to cover the cream cheese layer completely.
5. In the middle of the tortilla, spread a thick line of Tomato-Mint Pesto.
6. With the pesto layer parallel to you, start rolling the tortilla tightly towards the other end. Be careful not to roll it too tightly to avoid the filling from coming out.
7. Put all the rolled tortillas in the fridge for an hour so that the cheese is set firm again.
8. Take it out just before serving and slice the tortillas into equal sized mini-rolls
9. Serve chilled and enjoy the feast !
Pleazzzz don't forget to share it on your social media with friends and family in case you enjoyed reading my blog. After all, "Sharing is Caring".
Eat healthy, exercise well and stay tuned for more recipes. Don't forget to follow me on Facebook, Twitter, Instagram and Pinterest and please click the follow button to keep receiving the updates on my new blogs and it's free.