Gluten-Free Gujiya( Indian Sweet Pie-dumplings)
Holi is the Indian festival of colors celebrated in the month of March. Holi announces the arrival of spring and the passing of winter. The festival is said to bring the social merriment as the people smear colors on each other's faces symbolizing the atmosphere of happiness and togetherness.
Holi has long traditional links with several legends. According to one popular legend, the word Holi is derived from the demoness, Holika. She was the sister of Hiranya Kashipu (the name meaning love of gold and a soft bed), a demon king, who having defeated the gods, proclaimed his supremacy over everyone else in the Universe. Enraged over his son's ardent devotion to Lord Vishnu, Hiranya Kashipu decides to punish him. He takes the help of his sister, Holika, who is immune to any damage from fire. Holika carries the small boy Prahlad into the fire but a divine intervention destroys her and saves Prahlad from getting burned. Thus Holi is celebrated to mark the burning of the evil Holika. Her effigy is consumed in the fire!
In Northern India, Holi solemnizes the love of Radha and Lord Krishna. The spraying of colored powders recalls the love sport of Lord Krishna and His devotees. The ritual is believed to come from the Krishna's playful splashing of the maids with water, but most of all it celebrates the coming of spring with all its beautiful colors and vibrant life.
The Hindu religious festival Holi is all about color, but it's also an excuse to eat foods that awaken the senses and keep your spirits high. Although traditional Holi delicacies vary from region to region and family to family, one of my family's tradition has been to prepare Dal Kachori with Aloo ki Sabzi and Gujiya.
Me and my family can't imagine a Holi bash without some sugar syrup dripping gujiyas.
Native to Rajasthan, gujiyas are sweet dumplings made of flour and filled with a delightful khoya and dry fruits mixture. Deep fried in ghee and dipped in a sugary syrup.
Gujiyas can also be baked, if you are calorie conscious. Just brush them with some oil before putting them in the oven.
As kids, we ensured our day was filled with playing pranks on family and friends, chasing each other to see if we could smear colours on each other's faces and stuffing ourselves with as many sweets as possible.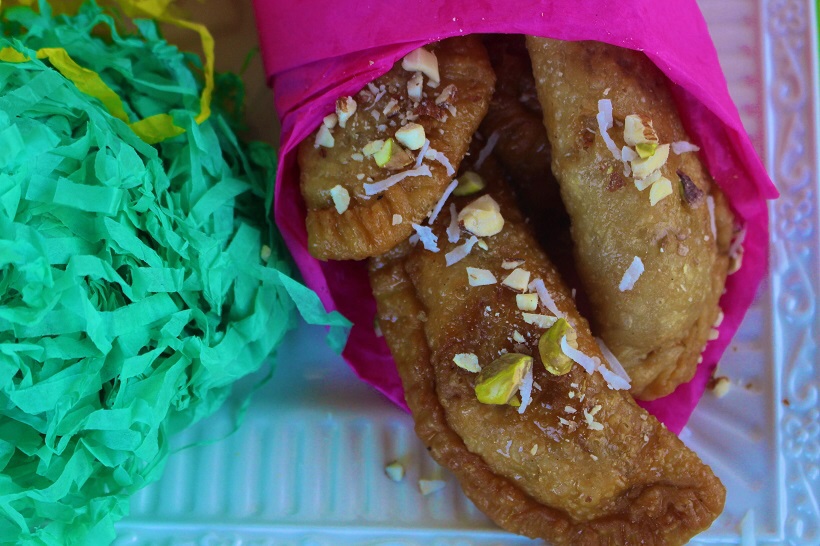 The jovial exuberance, unconditional human spirit, and an entire country drenched in fun-smashing colors, accompanied with scrumptious food and drink, is a common attraction point in the Indian streets during the festival of Holi.
As my one year old is always keeping me busy and I am always catching up late to prepare for any celebration, I had a limited time in hand to prepare my favorite Gujiyas with those few ingredients sitting in my refrigerator.
To my surprise, it came as one of the quickest Gujiyas with the same Heavenly yummie taste. You don't even have to prepare the dough and prepare mawa from the scratch with my recipe. I didn't have time to prepare mawa but had low-fat Whipped cream in the fridge. Also to save time preparing the perfect crunchy dough, I used Pillsbury Pie crust which was just perfect for my quick Gujiya. And one thing that is left was to crush all my dried nuts together in the food processor and we are almost done !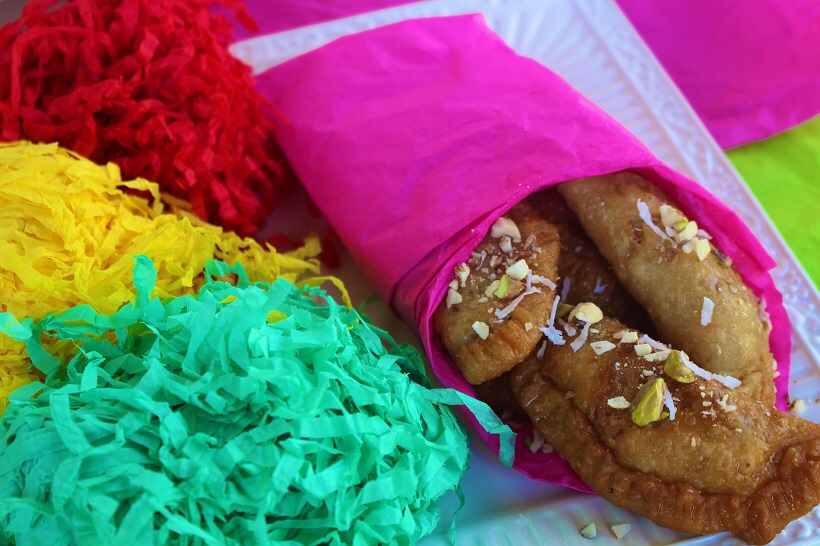 Doesn't it sound interesting to make Gujiyas with low-fat whipped cream rather than the heavy evaporated milk or mawa. Initially I was scared to use this but then my inner-self who believes in experimenting made me confident of what I was doing.
So, without making you wait longer for the recipe, here I start with the Gujiya preparation for you.
Colors magically connect with the emotions and moods of all human beings, and make us jovial and happy. People rejoice with colors, foods, and drinks to express happiness, and symbolically celebrate life with the victory of good over evil, and spread the message of love, unity, and peace. May you all rejoice this Holi with colors and Gujiya too.
Ingredients:
For filling
½ cup almonds
½ cup cashews
½ cup pistachios
¼ cup raisins
¼ cup dried cranberries
¼ cup dried cocunut flakes
1 teaspoon cardamom powder
1 cup ready to be used whipped cream
For pastry
Pillsbury gluten free pie crust dough
For syrup (skip this step if you don't want any added sugar)
1 cup sugar
¾ cup water
Oil to fry (or bake if you desire )
Methods:
Crush all the dry ingredients for filling in a food processor and roll the crushed mixture evenly in the whipping cream to make the filling forGujiyas
Divide the dough into twelve equal portions and shape into balls. Roll out each ball into a round flat puri.
Place one portion of the stuffing on one half of the puri, lightly moisten the edges, fold the other half over the stuffing and press the edges to seal. Pinch the edges to make a design or use a fork for the same.
Heat sufficient oil in a deep pan, gently slide in a few gujiya at a time, and deep-fry for five to six minutes or till golden brown. If baking, preheat the oven to 350 deg f. Place the Gujiya on a baking tray. Spray with the cooking oil and bake for 10 to 15 minutes or until brown and flaky. Keep flipping them on each side in between.
Boil ¾ cup of water, add sugar,mix and let it simmer on medium for 10 minutes until a syrup is formed. Allow it to cool a bit. When both Gujiya and syrup are just warm, dip the Gujiyas individually in the syrup on both sides with the help of two spoons. (skip this step if you don't want any added sugar)
Sprinkle crushed pistachios and almonds on top to garnish. Serve and enjoy the delicacy of Holi festival.