Beat the Chill with Soup Therapy Day-7
A lil' bit of this, a lil' bit of that Soup
On a freezing cold day like today and the Lord of weather pouring snow outside, a hot bowl of soup is a great soothing tonic for comfort when we need that warmth the most. A nice warm meal is something we want when the temperatures drop.
With the winter-weather warnings On and snow-storm emergencies declared, the school closure announcements done and adults working from home, it looks like a long weekend again.
Munchkin is busy watching KungFu Panda movie and hubby is busy playing office-office on his laptop, I am just trying to prepare a hot meal in the kitchen to keep everybody warm at home.
This stormy weather won't let me go out and grab any special ingredients for the soup. So, I decided to throw together all the leftover veggies stocking up in my refrigerator into the Soup pot. That's the reason I named this one as "A lil' bit of this, a lil' bit of that Soup".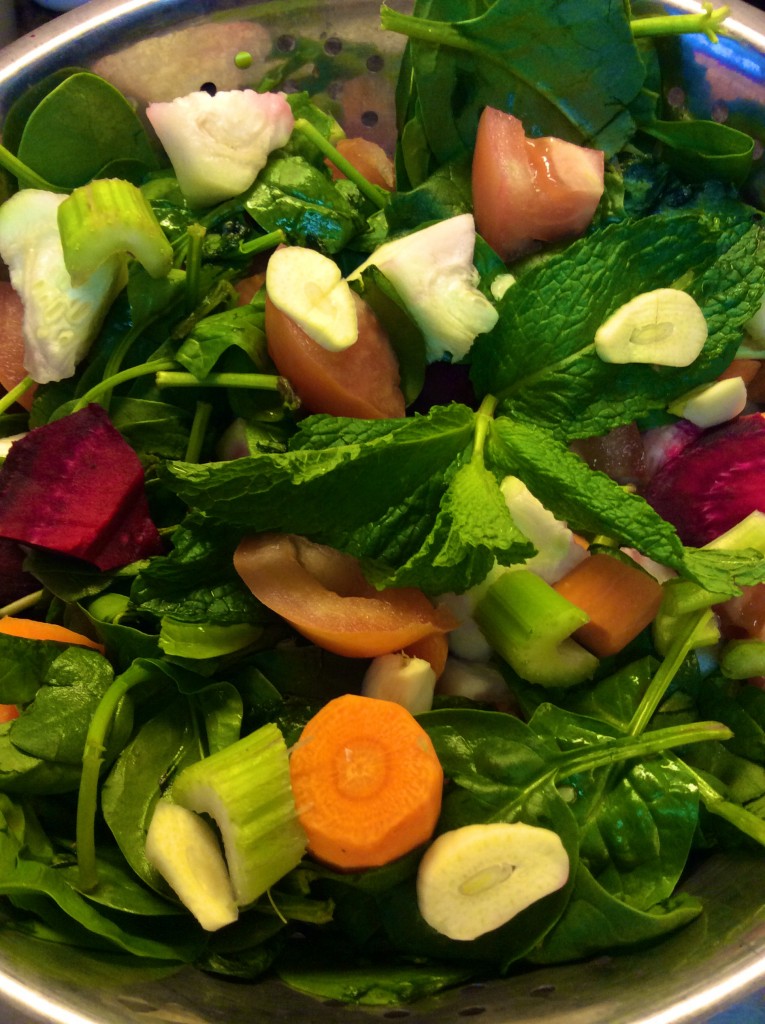 With the goodness of all the hearty veggies going in the pot, it's going to be a "Goldmine of Nutrients" Soup Bowl this evening. So, put on your snuggly slippers and walk in the kitchen. I bet, the effort is going to be worth a warm treat of this super healthy bowl.
Indian Home-Style Mix Vegetable Soup
Cook Time: 30 MIN      Total Time: 1 HR      Yields: 4 TO 6
Ingredients:
2 cups Carrots diced
1 ½  cup Bottle Gourd diced
½ cup Beet Roots diced
1 cup spinach
½ cup celery chopped
1 cup Tomatoes quartered
A few springs of  fresh mint
1 tbsp olive oil
½ tsp Cumin seeds
Fresh ground Black peppercorns
1 medium Onion
2 to 3 cloves of garlic chopped
Salt to taste
Sugar 1/2 teaspoon
Method:
Heat oil in a pan. Add cumin seeds. Add Garlic and saute for a minute. Add onion and saute for two minutes.
Add carrots, bottle gourd, spinach, celery, beets,tomatoes and mint. Stir all the veggies well. Add salt and mix. Add two and a half cups of water, cover and cook till completely done. It will take about 20-25 minutes.
Strain and reserve the liquid.
Cool the vegetables and then puree in a blender. Strain it again to get rid of any tomato seeds etc. and transfer back into the soup pot, add the reserved liquid and adjust consistency. It should neither be too thick nor too liquid.
Bring the soup to a boil. Adjust salt, add sugar,black pepper and stir.
Serve hot garnished with corn flakes.
With this, I conclude my "Beat the Chill 7-day soup Therapy" series. Hope you all had good time reading my blogs and recipes. I will see you all soon with more exciting recipes from my kitchen. Till then, Stay warm and nourished with these amazing, hearty winter soups.
Pleazzzz don't forget to share it on your social media with friends and family in case you enjoyed reading my blog. After all, "Sharing is Caring".
Eat healthy, exercise well and stay tuned for more recipes. Don't forget to follow me on Facebook, Twitter, Instagram and Pinterest and please click the follow button to keep receiving the updates on my new blogs and it's free.