Rendezvous with Ginger-it-Up
Meet Sweta Vyas Bhardwaj – An example of Strength & Perseverance
Sweta Vyas Bhardwaj, a very ambitious woman, who gave up a promising career as a Fashion Designer & a Fashion Merchandiser back home in India to join her husband in the US, she understands the lives of women like her with sensitivity, and during the interview reveals the initial struggles and anxieties that she had to deal with after moving to USA. However, Sweta doesn't want people to recognize her from the struggles that she experienced but with the achievements she bagged for herself and the undying passion for continuous learning.
After leaving her career in India and coming to US on a F2 dependent Visa, she could have surrendered her dreams sitting at home like many other women who hold the dependent visa status. However, she decided to accept her present situation and started to work in the direction of molding a better future for herself.
She utilized that time to support her husband & raise her kids wonderfully while investing in her education at the same time. "There's a lot to learn in the creative world", says Sweta Vyas Bhardwaj.
But her philosophy of "learning more in the creative world" meant that she wasn't one to be satisfied with just one art. She broadened her horizons, quite literally, by learning to illustrate & paint from Art Instructions School Minneapolis and then started her licensed home-based Studio 'Barty Inc.'. Followed by this, she graduated in Esthetics from Aveda Institute, Charlotte. Yet this wasn't the end of her quest for more either. She has done several certifications like Reiki healing, Stage-Drama, Classical dance, Theatrical Makeup, Photography Makeup, Party Makeup, Glamour Eye Makeup, Chemical peel specialization, Microdermabrasion specialization.
Sweta Vyas Bhardwaj- Jack of All Trades and Master of All
It is this insatiable desire for more, and an ability to put up a show in every role she dons, that makes Sweta the unique and strong woman she is. Through this interview, she wants to give a positive message to each and every woman who is going or has gone through the similar struggles of being on 'Dependent Visa'. According to Sweta,"Creativity isn't meant for keeping yourself in a box, Marriage isn't to trap yourself in the shell, having kids doesn't mean you shut down. Creativity is to give birth to new unborn possibilities. Marriage is a new beginning and having kids' means that you have opened paths to grow up with them with all your desires. We the women are a source of power and to provide the support. But that's possible only if we are powerful and supporting ourselves first."
Jack of all trades and master of all… that's what Sweta Vyas is all about. After trying her hand at all that her heart yearned for, being an Esthetician Fashionista is what soothes her soul today.
Many a times, we cross our ways with a person for a reason. When I first met Sweta, I could feel an unsaid connection. With my usual urge to know more from each of my friend, I tried to catch up with Sweta over a cup of coffee a number of times. I found her as interesting as an individual and snippets she shared from her life enthused me to invite her for my Rendezvous series.
So, a very warm welcome to my very special friend Sweta Vyas Bhardwaj on 'Rendezvous with Ginger-it-up'.
Sweta: Hi Mani, Thank you so much for having me on your page, I enjoyed our conversation & I am very much excited about the entire idea.
Mani: First of all, tell us something about yourself, your growing up years, your school and college days, and your family.
Sweta: I am a Daughter of an awesome mother, Daughter-in-law of a loving mom-in-law, a supportive wife of my ambitious loving husband, a mother of my 2 handsome boys and a buddy of my fur-baby dog.
By profession, I am an Esthetician, a Make-up artist, a Painter and a Fashion-illustrator. At present, I am studying and pursuing short term courses to cover depth of other areas in Esthetics as an Esthetician and a makeup artist.
Mani: If I am stating it correctly, you have studied:
Graduated in Bachelor of commerce from Sahajanand collage of Ahmedabad,India.
Graduated in Garment Production Technology and Fashion Designing at NATIONAL INSTITUTE OF FASHION TECH. INDIA
Studied diploma in art- illustration at Art Instruction Schools
Graduated in Esthetics/Skin Care science as Esthetician at Aveda Institute Charlotte.
You seem to be unstoppable. What keeps you motivated to keep attending so many schools and programs?
Sweta: Above are my majors, other than this I have done several certification like I have certification in Reiki healing, Stage-Drama, Classical dance, Theatrical Makeup, Photography Makeup, Party Makeup, Glamour Eye Makeup, Chemical peel specialist, Microdermabrasion specialist, went for a program to know about multi-vitamins in the detail for my families health at Market America-Isotonix program etc.
I was and I am extremely passionate about Fashion, Illustration, Makeup skills, Style and Natural way to take care of skin. That is why, I have done many special courses to educate myself to follow the proper channel for myself, for my family and others.
Honestly speaking, I knew it that I will never leave my kids and go for full time work because I am a primary person to take care of them 24/7 with my husband's extremely busy working life. It was always a mutual decision between me & my husband that one will take care of kids, so we never want to hire a sitter/help to take care of them. However, it doesn't mean that I wanted to sit idle. I wanted to utilize this time to invest in education.
Another major reason is my curiosity about each and every art foams. I just breathe art in everything I do. Apart from having an urge to educate myself on new things, I also have a passion & hobby to collect CERTIFICATES AND DEGREES. That's why I keep going programs at different colleges & institutes.
Additionally, I can say that I am preparing myself for future. Once my kids will be on their own. I want myself to be top-notched & up to date for current world to launch a business. Even after having a full time career, you will find me studying till my last breath 🙂 There is so much to learn in this world.
Except my family, if I have to give my time somewhere I want to give it to my study & education. There is a lot to learn in this creative world.
Mani: What were your struggles during the initial years of moving to United States?
Sweta: At first, I want people to know me from my achievements not from my struggles. But to give just a little platform to the question, I would say that I have started my life twice from a zero. This is another reason why I am unstoppable and eager to learn new things.
I lost my father at an age of 14 and my life turned up-side down. After 5 years of my father's death, I promised my mom that I will change my and my family's life. And in order to do so, having a good education was a must! That was the first step towards my dreams and achievements.
I studied on my own at an early age from NIFT. After graduating from NIFT, I worked as a fashion merchandiser and a fashion designer. During that time, I met my husband and we got married. During my pregnancy, I had serious health issues and my first child was born with murmur sounds in his heart. It was then I decided to leave my career and keep-aside home based boutique "Maraali" and just focus on my child.
At the same time, I wanted to support my husband's dreams too who wanted to go abroad for his Masters. Though, I wanted my boutique business to flourish but I didn't want to live without my husband for 4 to 5 years. So, I moved with him to USA.
My second struggle which was from Minus instead of zero, was moving to USA with my husband on F2 dependent Visa. Being a 'F2 Dependent Visa' holder, I couldn't apply for driving license and I was completely lost, depressed & dependable for many years due to the visa status. Spending Four years on F2 visa were no less than a challenge for me as I was very ambitious and very creative and I couldn't do anything on that status.
I had only two ways. Either I could have gone completely into depression and cried on my situation or I could groom my inner strength more. I decided to choose the latter and meet myself. Instead of going in complete depression, I decided to focus on my family, my kid, my weaknesses, my goals and cooking. I was zero in cooking back in India and I started learning lot of dishes on my own through books and internet. I started sketching and painting also during those days. I practiced yoga and meditation through the books.
After his successful study and Masters, my husband got a good job but we had to travel a lot and my status from F2 to H4 kept me completely dependent so I couldn't do much as some of the cities weren't providing driving license on H4 either, plus my paranoid mind was not letting me leave my kid at day care as I wanted to take care of him & his health on my own.  After my second son's birth, I decided to settle down in Charlotte permanently as I was able to apply for driving license from here &  I could focus on my goals & could go for study. My second one was born as a colic child and he had separation anxiety. So once again, I couldn't go for study. While he was little, I went for Ceramic and pottery classes for couple of years and went to Queens University of Charlotte for painting programs.
Mani: What makes you, 'You'?
Sweta: My thirst towards creativity makes me 'ME'. My positive attitude towards living life makes me 'ME'. I don't like negativity. Believe me, when struggles or obstacles comes in my life, my mind automatically just focuses on solutions as I am not the one who would sit and cry. My trait of not giving up makes me 'ME'.
Mani: Tell us about "Barty Inc." & your company "8 SPA LLC"? What made you start this?
Sweta: Being an artist, I wanted to own a studio, so I went for proper degrees and earned licenses & launched my businesses by clearing all legal terms and through right channels.
Barty Inc is my first career baby in USA. It is my licensed home-based Art studio where I used to teach art to anyone from age 8 and up. My students has won so many awards and accolades outside.
Sweta Bhardwaj 8 SPA LLC is my professional and licensed beauty business where I ran professional spa services for a year successfully at Salons by JC on Carmel road in Charlotte. The SPA studio helped me to gather work hours to put on resume for my future academic goals and to understand beauty business terms at the same time.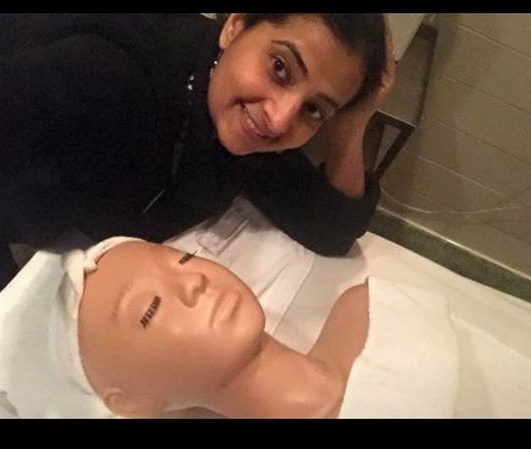 At present, the studio I handed over back to Salons by JC & I am studying more towards my certifications as I am focused more towards freelancing theatrical makeup work at clients' location.
Mani: 'We the woman' need to celebrate ourselves and our existence every moment. What are your views on this? Most of the women find excuses in not being able to work due to social and other reasons? How do you think it is important for each woman in the society to understand their existence and importance of being creative in some way?
Sweta: As a women, I would say that if you would not take steps for yourself & your goals, no one else would ever take it. You have to understand your own importance and instead of being dependent on others, make yourself capable enough that others can count on you. Your existence is a must. Yes it's true that your world revolves around your priorities & kids. However, your own happiness & your own identity revolves around your heart and mind.
Creativity isn't meant for keeping yourself in a box, Marriage isn't to trap yourself in the shell, having kids doesn't mean you shut down. Creativity is to give birth to new unborn possibilities. Marriage is a new beginning and having kids' means that you have open paths to grow up with them with all your desires. We the women are a source of power and to provide the support. But that's possible only if we are powerful and supporting ourselves first.
Mani: Describe yourself in one sentence?
Sweta: One world is not enough for my kind-a free spirit. I can call myself a Pulser, Blissful, CREATIVE, Promising.
Mani: Do you have a favorite mantra/quote that keeps you inspired?
Sweta: I write my own quotes many times: One of my favorite is:
"If Life is a plain canvas, I am possible all colors to paint rainbow on".
I am inspired by Mother Teresa's quotes and one of hers is my favorite:
"If you judge people, you don't have time to love them".
Mani: What are your favorite three dishes/recipes?
Sweta: Bhaji Paau, Spicy Cajun Pasta & Avacado Rolls with Mint Sauce
Mani: What advice would you give to young women readers of Ginger-it-Up who are losing ample opportunities because of sitting idle at home?
Sweta:  I want to give this message to all the readers' regardless men or women…
If you want to have a good life, education is a must. And make yourself independent instead of being dependent on others. I am passing this message to my sons too.
And for my women readers, I would say that….
While playing the roles of a daughter, a wife, a mother, a daughter in law, we have somewhere forgotten our own dreams, identities and hobbies. We complete family but we forget to complete ourselves. I just want to tell other ladies who have been in my shoes that, because of one or other social reasons, if you can't fulfill your dreams to a 100%, don't give up. Give at least 1% at a time, start walking towards your goals.
When I started Aveda, I used to cry while driving my car and kept thinking that how will I finish this? How will I go to the institute with kids and responsibilities at home? Am I wasting money on fees or what?" I was about to quit after a month and after second test But on the same night, I gathered myself & I decided that I won't quit. I didn't want to be a quitter in front of my kids. So, I went back and I had sleepless nights for almost 8 months. I finished the course with the respect of Valedictorian, The next leader in the industries and with 7 other awards.
I can give you my example only as I lived it. If you are in my shoes with so many dreams just open your wings and fly. At least try. If you are stuck because of one or other 'XYZ' reasons, try to find a solution. This message is for all the people all around the world…there are hundreds of courses now a days available even online too. Pursue towards goal. Any excuse is not going to take you anywhere. You don't have to show the world who you are! You have to show it to yourself who you are & what you can do. Today you will learn something, tomorrow you will use that knowledge to achieve something. Just keep studying.
Last but not the least, I would like to say thanks to my husband who has been a tremendous support throughout my struggle, he always played his part as a life-partner & as a friend and stood by me in each of my decisions. Thanks to my kids for being so flexible during my study time & tons of thanks to my mom who came all the way from India whenever I needed her support.
Mani: Thank you so much for your valuable time Sweta. It was a pleasure talking to you and knowing more about you. I thoroughly enjoyed the conversation and hope my readers would also do!
Sweta: Thanks Mani again for inviting me on Ginger-it-Up! I enjoyed it too.