Diwali, also called Deepavali in some Indian languages, translates literally as "row of lamps" and is a celebration of the victory of good over evil, light over dark and knowledge over ignorance.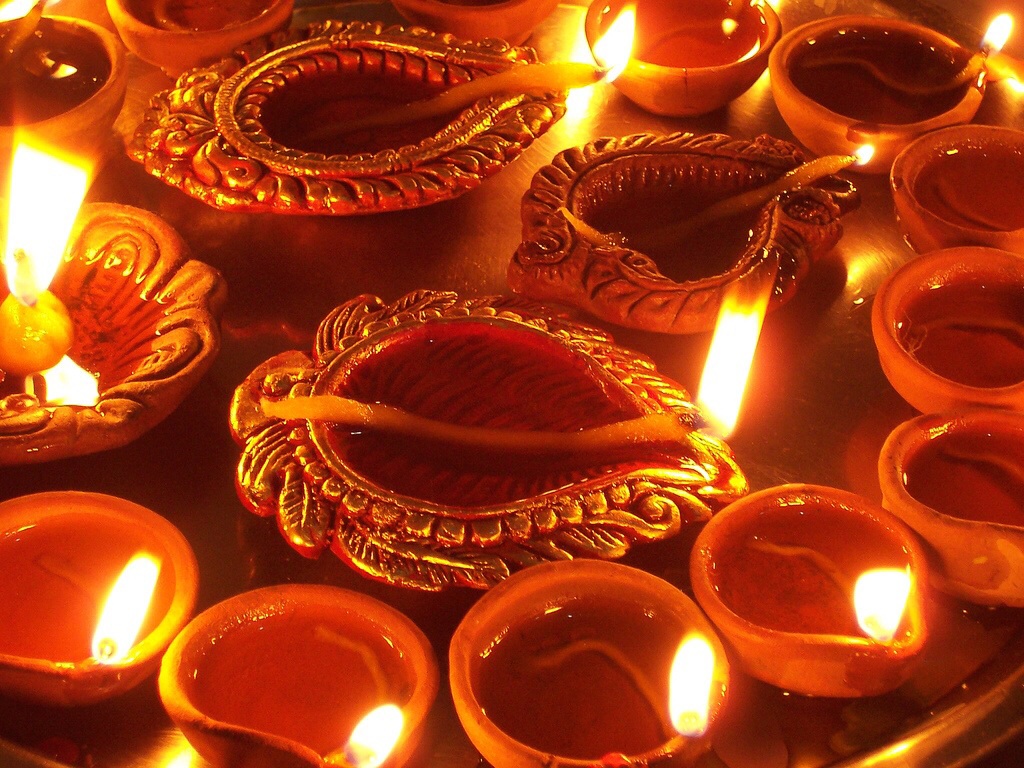 Diwali honors the goddess Lakshmi, who symbolizes wealth and prosperity. And it celebrates several events, including the return of Rama (the seventh avatar of the god Vishnu) from exile and the death of the demon Narakasura.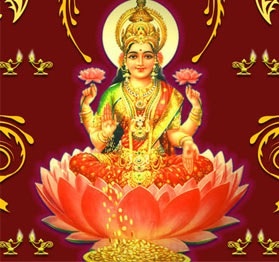 So, this year again, I am going to miss all the fun we used to have during our childhood. But rather than getting upset, We are trying to make it as joyous as it can be with my kids.
To mark the preparation for the biggest festival, all the homes in India are carefully scrubbed, renovated and decorated for the festival. The women of the family make traditional sweets.
On the main night of Diwali, called Lakshmi Puja, families dress up in their best clothes and light small painted earthenware lanterns half-filled with oil outside their houses. These are left overnight so that Lakshmi, the goddess of wealth, can find her way safely into their homes. It is said that the more lamps a family lights, the more easily Lakshmi will be able to find her way to their home. It is also a time for eating sweets and exchanging gifts with friends and family.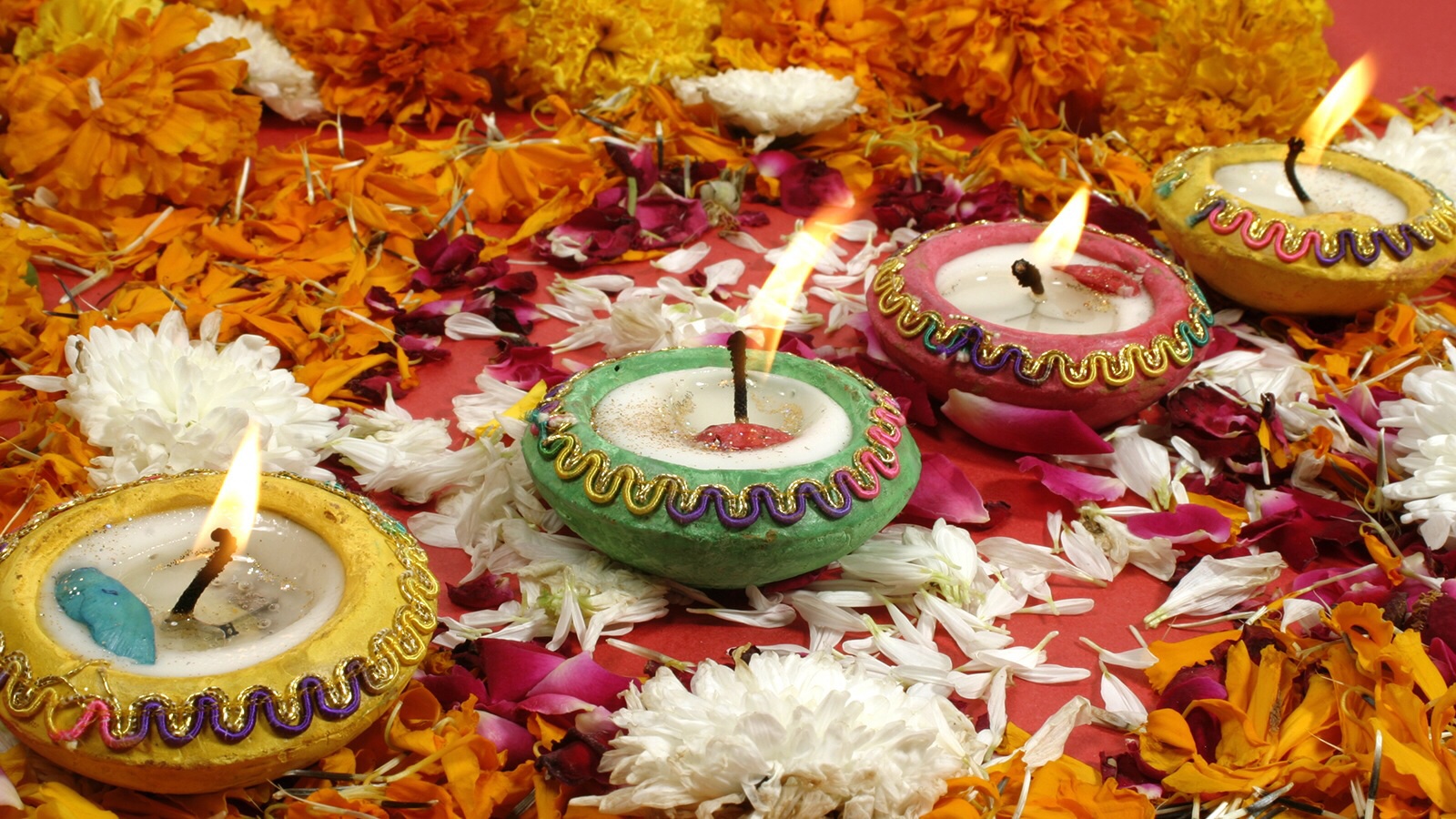 So following the tradition back home, As every other year, Diwali cleaning is at its peak in our home. At the same time, we are making sure that we buy new clothes for the kids and for ourselves to wear at the time of Lakshmi-Pujan. So, we spent this weekend on shopping a lot of clothes, lighting for the house and gifts for kids.
I can recollect some of the childhood memories. Everyone wanted to have the brightest, most beautiful, brightly lit house. So, it used to be a kind of competition among the neighbors to light-up their houses as bright as they can. This simply included an element of rejuvenation and festive-spirit among the community.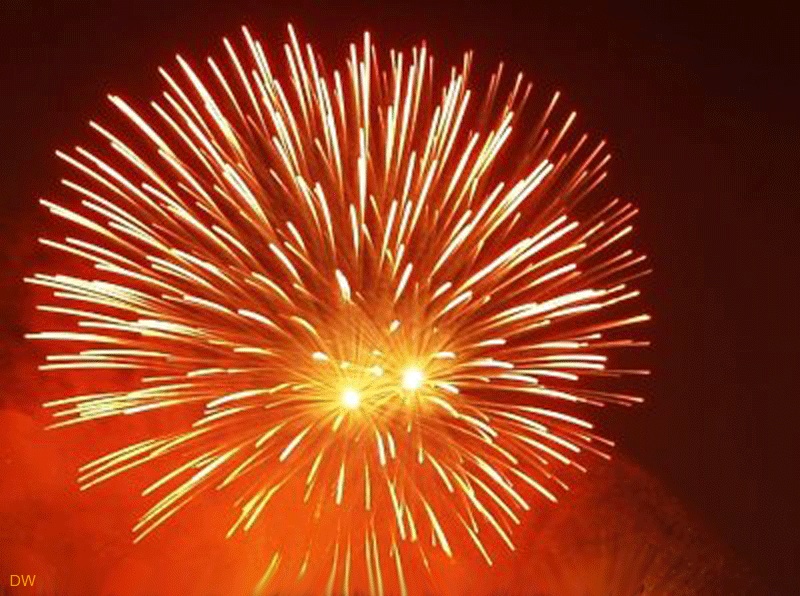 Diwali is as much a festival of food as it is of light.And it involves a lots of cooking. So what is eaten during the five-day festival? The immediate answer is sweets – and plenty of them. So, while we were in India, we enjoyed all sorts of home-made and store bought sweets and savory snacks. Now, I am terribly missing all the fun and vibrance attached to this brightest festival of ours.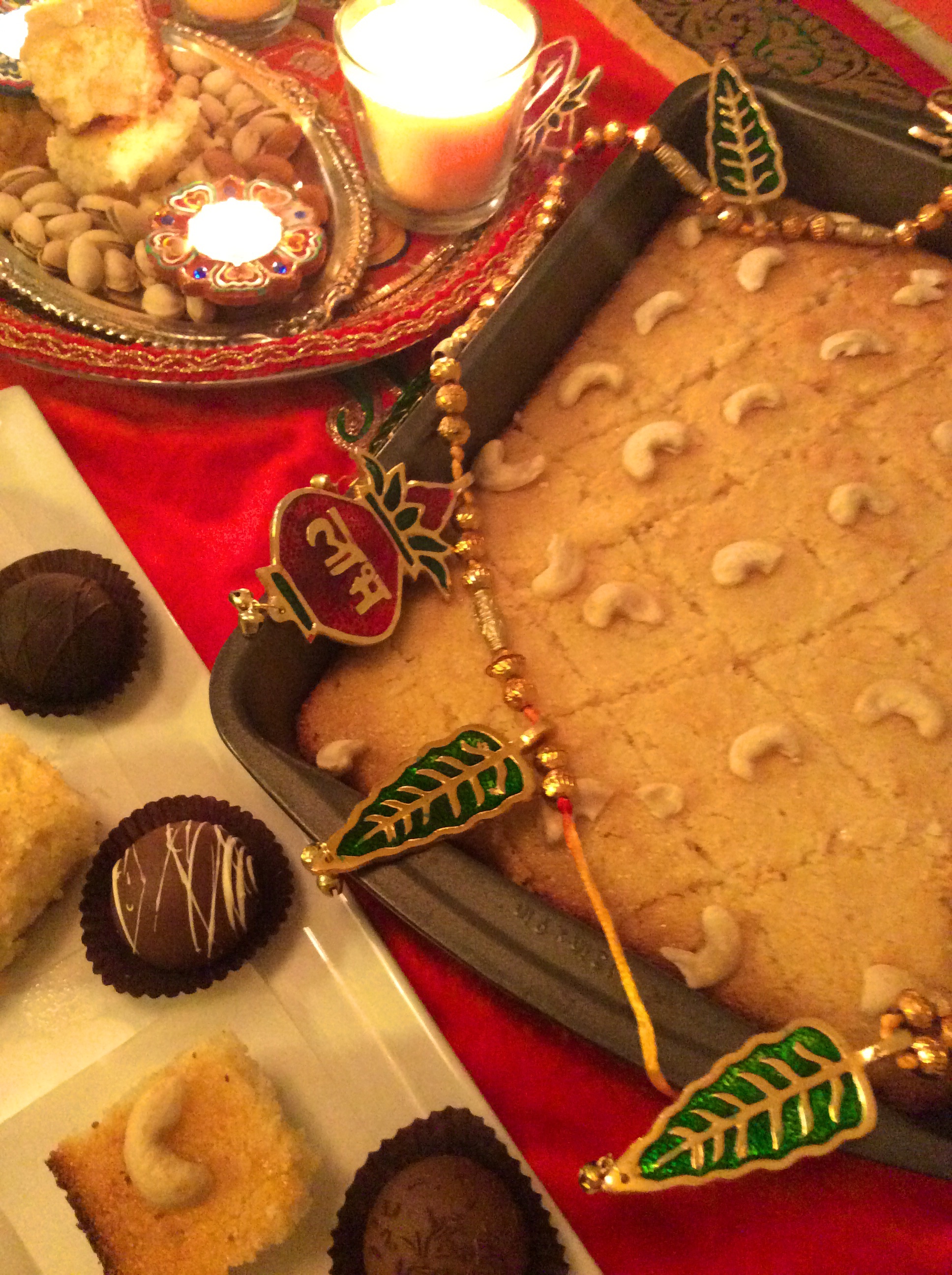 When you are away from your land, and loved ones and away from the throbbing pulse of the celebrations ,it's then, you realise the value and the joys you shared, the exhilarating fun of the preparations.
The day of Diwali is finally here, the house in India would be filled with sounds of joy and laughter,the home would have been lit up beautifully, with diyas and lights and the evening sky would explode with joyous crackers.
An old Diwali picture of "Home Sweet Home" in India! Isn't it completely embellished like a new bride?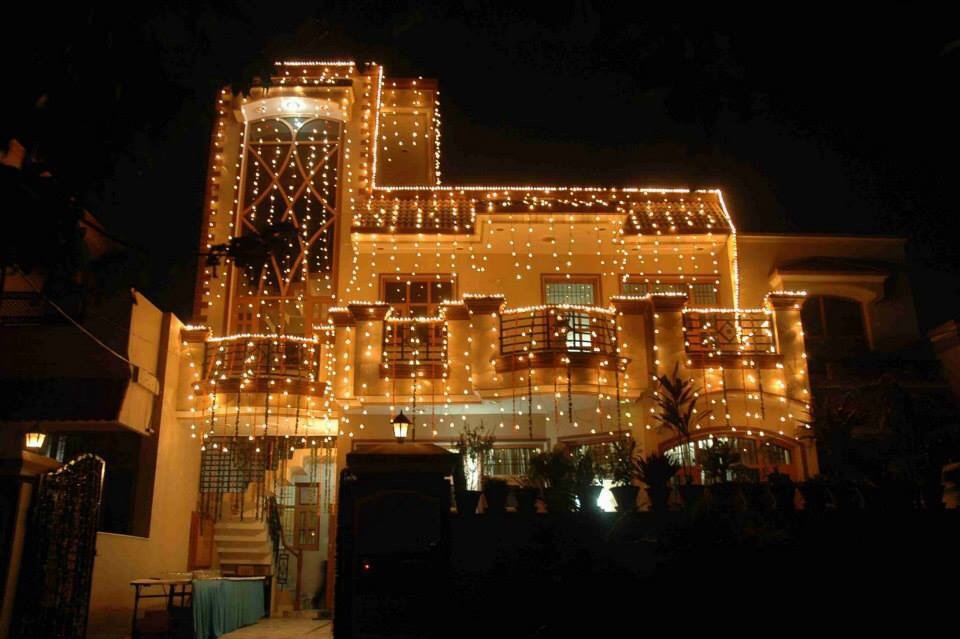 Sitting here in America, I can't do much. So, In my own little way I am trying to create my homeland. I am trying to recreate the ambience, by lighting up the home, making sweets and wishing all my dear ones. The Indian friends in the neighborhood have planned a diwali potluck dinner. So, Thank Goodness! I have people around me to celebrate the festival with. I prepared a dessert for the potluck.I am trying to keep the spirit of Diwali alive in the land of America. This diwali I am making a Suji-coconut burfi. The inspiration for this recipe comes from my favorite Masterchef Sanjeev Kapoor.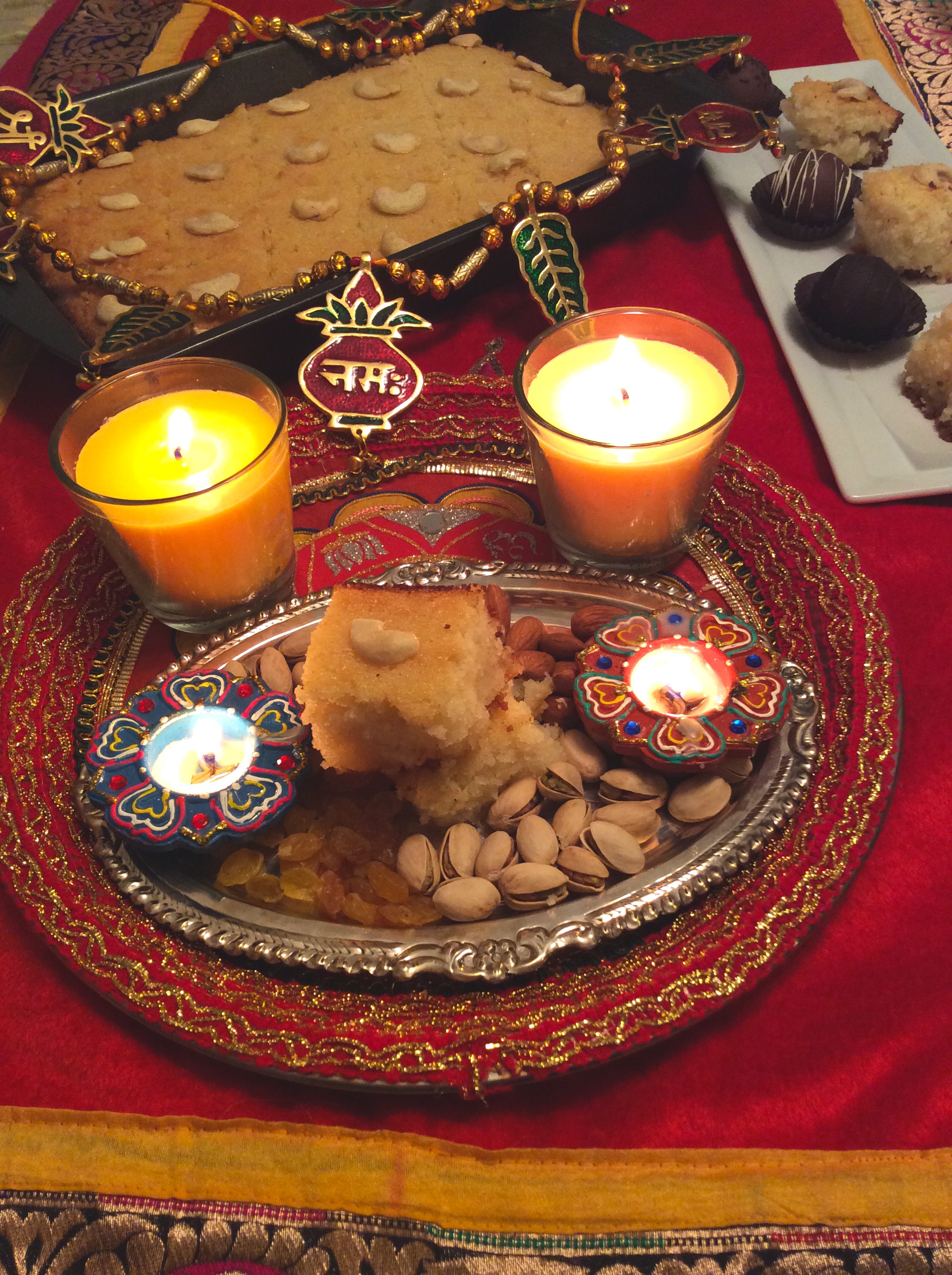 This sweet isn't just famous in India. But a variation of this is famous in Arabic countries as well. There's an Egyptian sweet delight called "Basbousa"(condensed milk is used in place of yoghurt) which is almost similar to this burfi. A similar sweet is popular in SriLankan cuisine as well. They call it Coconut Rocks(though they don't add Suji).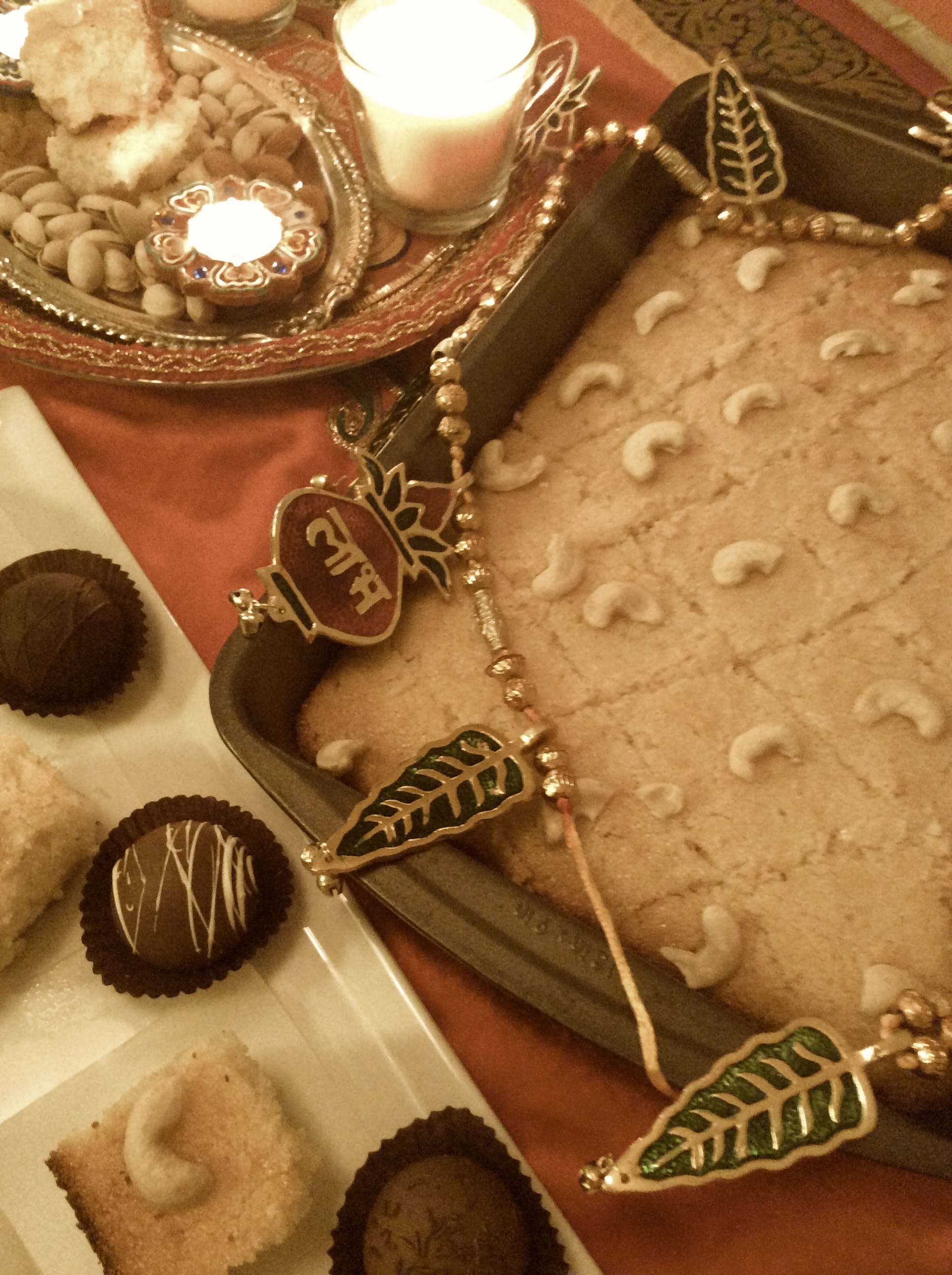 So, I am sharing this scrumptious dessert with my friends over this diwali. If you haven't yet decided about the dessert you are going to prepare, hurry up ! Try this one. Bet, your family is going to love this and this doesn't give you much hassles !
Semolina-Coconut Burfi
Prep Time: 15 minutes
Cook Time: 30 minutes
Total Time: 1 1/2 hours
Type : Dessert
Cuisine. : Indian-Fusion
Serves : 20 pieces
Ingredients
Semolina (suji) 2 cups
Scraped fresh coconut 1 cup
Sugar 1 cup
Baking powder 2 teaspoons
Yogurt 1 1/2 cups
Ghee or butter 1/2 cup + for greasing
Rose water 1 teaspoon
Juice of ¼ lemon
Cashews halved for decoration
Method
Preheat oven to 180º C. Grease a burfi tray with ghee.
Heat 1 cup water and sugar in a non-stick pan and cook till the sugar dissolves.
Put semolina and baking powder in a bowl and mix well. Add yogurt and mix well.
Add ghee and mix well. Add coconut and mix well. Add rose water and mix well. Refrigerate for ½ hour.
Add lemon juice to sugar syrup, mix well and cook till it thickens. Remove from heat and set aside.
Spread the semolina mixture evenly in the greased tray. Smoothen the surface with a little water. Cut into squares, place the tray in the preheated oven and bake for 45 minutes.
Remove tray from the oven. Pour sugar syrup on top and let the burfi pieces soak the syrup.
Separate the pieces , decorate with halved cashews and serve.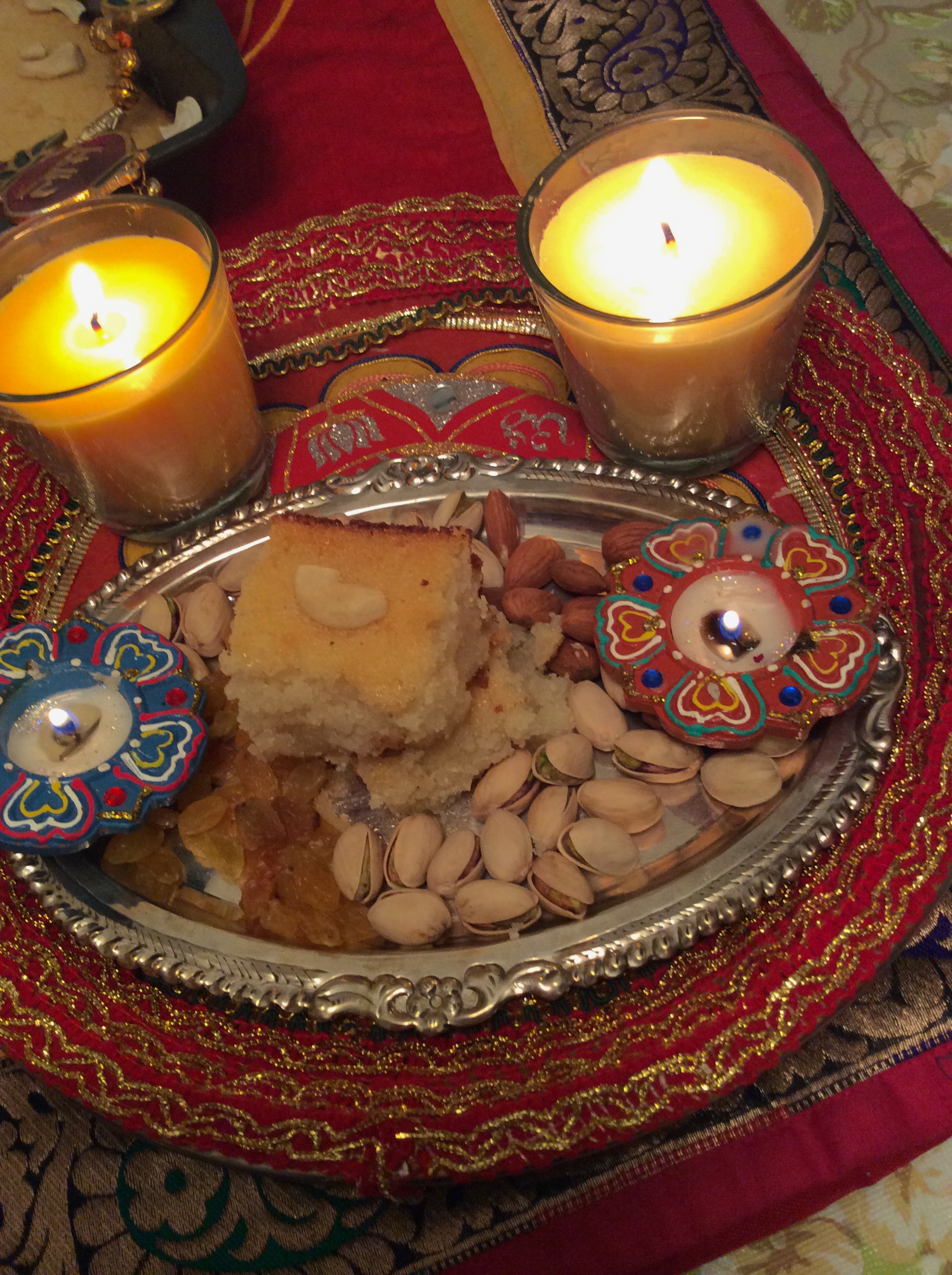 So, wish you all a very Happy and prosperous Diwali !!! Pleazzzz don't forget to share it on your social media with friends and family in case you enjoyed reading my blog. After all, "Sharing is Caring".
Eat healthy, exercise well and stay tuned for more recipes. Don't forget to follow me on Facebook ,Twitter, Instagram and Pinterest and please click the follow button to keep receiving the updates on my new blogs and it's free.