Quick Reference Chart For Perfect Boiled Eggs:
Use the following cooking times as a guide for the desired firmness for the yolk of each egg size. The timing begins once the pot of eggs is removed from the heat source.
Soft-cooked (boiled) eggs:
A soft-cooked egg has a firm white and runny yolk. They're very quick and practical.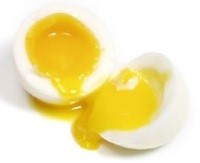 Medium-cooked (boiled) eggs:
A medium-cooked egg has a firm white and a slightly firm yolk. On the outside, medium-boiled eggs look exactly like hard-boiled egg – the whites are tender, yet cooked and hold their shape. Once you open the egg, you see creamy golden yolks which are neither liquid nor completely solid.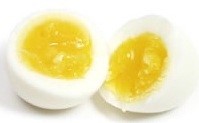 Hard-cooked (boiled) eggs:
A hard-cooked egg has both a firm white and yolk. Hard-cooked eggs should never be boiled – always simmer them in water. If cooked too long, the protein toughens (becomes rubbery) and a greenish or purplish ring forms around the yolk. Refrigeration is necessary for hard cooked eggs if the eggs are not to be consumed within a few hours. Hard-cooked eggs in the shell can be refrigerated up to one week.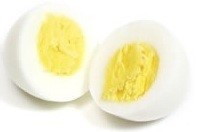 Egg Size
Degree of Doneness
Time Required
Medium
Soft-cooked yolk
3 minutes
Medium-cooked yolk
5 minutes
Hard-cooked yolk
12 minutes
Large
Soft-cooked yolk
4 to 5 minutes
Medium-cooked yolk
6 minutes
Hard-cooked yolk
17 minutes
Extra Large
Soft-cooked yolk
5 minutes
Medium-cooked yolk
7 to 8 minutes
Hard-cooked yolk
19 minutes